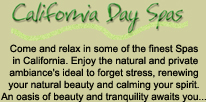 ---
Spa advertising on CaliforniaDaySpas.com allows our top Day Spas the opportunity to reach thousands of new customers each year.
With our top search engine placement on thousands of search engines such as Google and Yahoo, we get strong site traffic everyday from Spa-Seekers who are looking for a wonderful destination!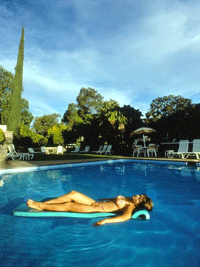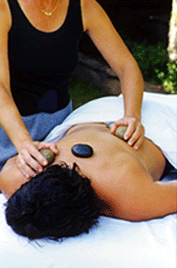 [HOME]
[E-MAIL US]

[LIST YOUR SPA ON OUR SITE]



We are Proud to be a Top 5 Spa Site on Google and Yahoo!

So what does being a top-5 Spa web site really mean?

We started CaliforniaDaySpas.com in 1995 and ever since then we have focused primarily on ensuring that CaliforniaDaySpas.com has best in class Search Engine Optimization (SEO). Along with significant wed advertising, our Search Engine Optimization is the primary force that has elevated CaliforniaDaySpas.com to the top #1 web site position on both Google and Yahoo. We are very proud of these results which deliver thousands of targeted visitors each month to CaliforniaDaySpas.com who are looking for a Day Spa escape. Why spend excessive money on advertising when you can promote your Day Spa on CaliforniaDaySpas.com for less than $20 per month and take advantage of our massive targeted traffic? Join risk free today!

See for yourself, visit Google and Yahoo and search for "Day Spa in California" or "Spa in California" (top search terms used by customers who are searching for Day Spa destinations) and see how CaliforniaDaySpas.com is in the #1 site position out of millions of web sites on both Google and Yahoo (and hundreds of other search engines!)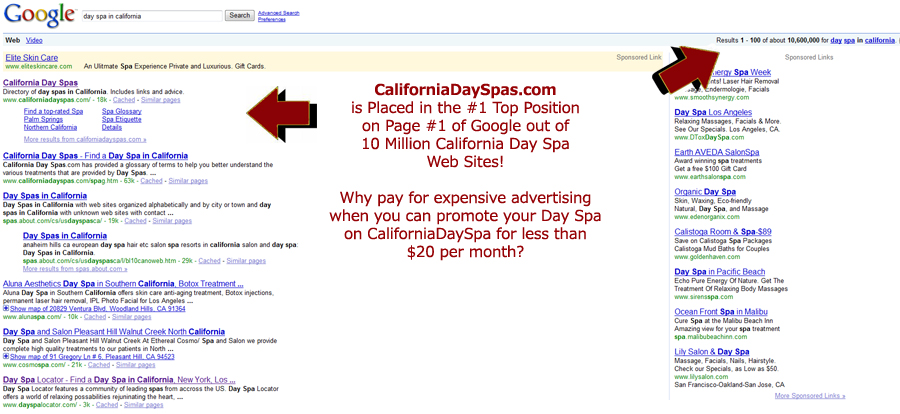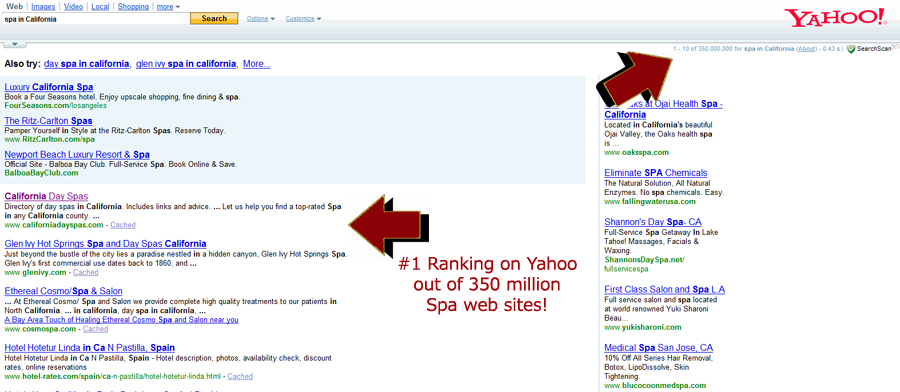 Just fill out a simple on-line form and your Spa information will be published on CaliforniaDaySpas.com within 48 hours! For less than $20 per month you can expose your Spa to thousands of visitors every month!



Premium Advertising Exposure:

Your Platinum Subscription Includes:
Premium Site Exposure with Ideal Spa Visibility on Top
Picture Tour of your Spa - just email us pictures
We Submit your Web Site to Over 400 Search Engines
Complete Spa Description within your Advertisement
Complete Spa Exclusive Features and Services
Complete Spa Location Information
Direct Link to your Spa Web Site
Direct Link to your Spa's Email Address
Display your own Spa Coupons & Gift Certificates
Free CaliforniaDaySpas.com Email Account
Free Spa listing on our sister community site www.DaySpaLocator.com - a $200 Free Value!



The California Day Spa
1234 Massage Court, La Jolla, Ca. 12345
Phone: (800) 123-4567 Fax: (800) 987-6543
Web Site: www.dayspa.com Email: owner@dayspa.com

Escape to a place where friendly smiles greet you. A world
where comfort and relaxation is primary. Where your time is
your own... and your experience is sure to be unforgettable.
At the California Day Spa you'll discover the secrets of relaxation,
physical rejuvenation, emotional balance and well-being.